Crawl Space Support Jacks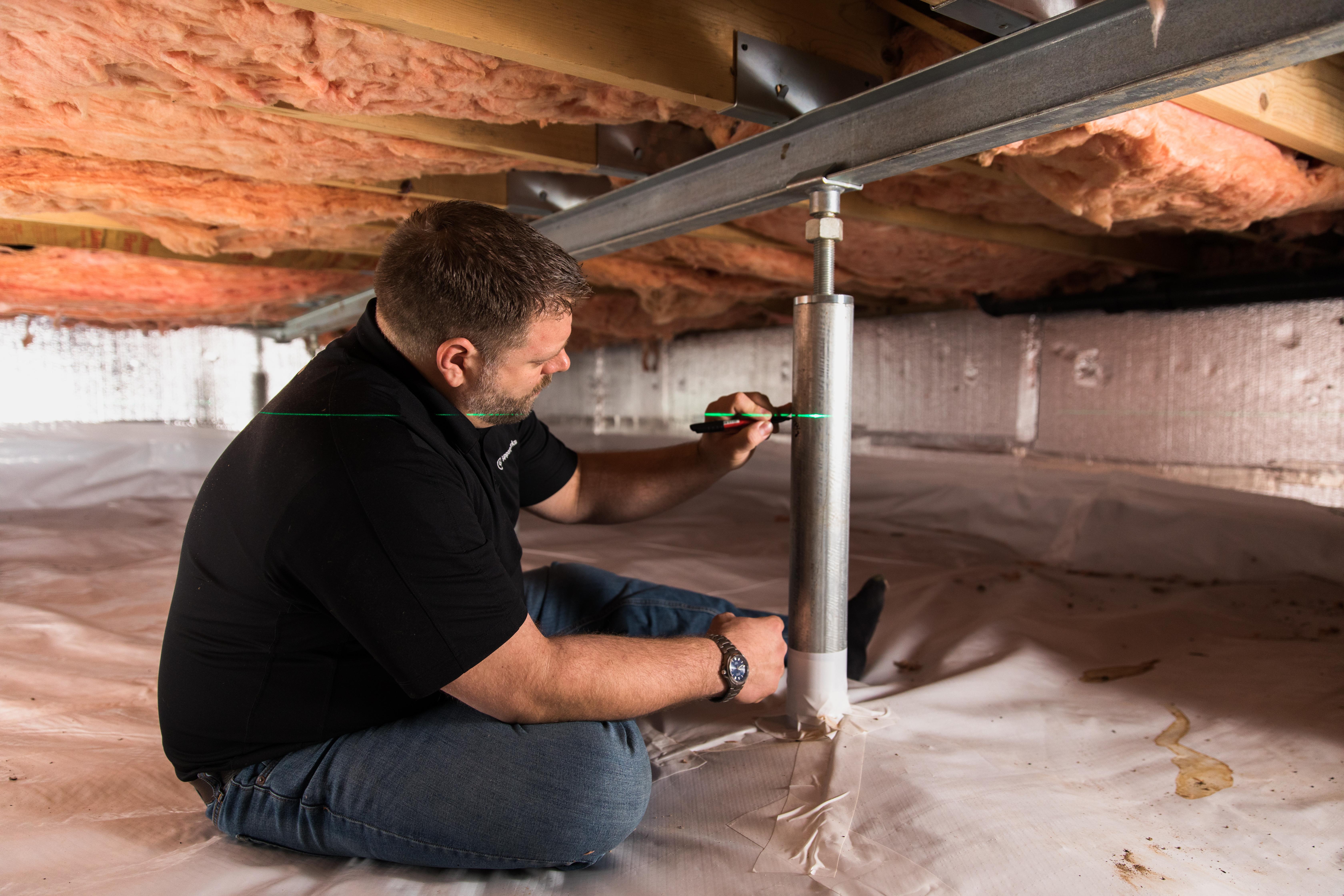 Fix uneven floors easily with Colorado Crawl Space!
Support sagging crawl space beams and level your floor
When joists in the crawl space begin to sag from moisture damage, mold, or pest damage, the floors above them will sag as well. Our crawl space support jack systems will provide long-term strength and stability for your home's floors by supporting damaged crawl space joists.
Why choose Colorado Crawl Space for crawl space support?
Fast, Year-Round Installation — The SmartJack® can be installed year-round, with installations completed in about a day. There's no waiting time for concrete to cure!
Stronger Crawl Space Support — Our crawl space support system can support vertical loads exceeding 60,000 pounds, which is far stronger than conventional concrete repairs.
Versatile Installation — The SmartJack®'s portable size allows it to be installed in even the tightest of crawl spaces.
Superior Support — Our support jacks do more than merely halt the downward movement of your floor. The SmartJack® may also be adjusted to try to lift the floor above to its original position.
Crawl space support jack questions & answers
How do crawl space support jacks work?
Support jacks function like car jacks — using leverage, a jack lifts and holds material above and dispurses the load downward through its base. In crawl spaces, where mid-span support beams can weaken and degrade over time from any number of issues, jacks are used to provide long-term strength to the structure.
SmartJack® crawl space supports are constructed from a galvanized, corrosion-resistant steel, each jack sports a load-bearing capacity of over 60,000 pounds. Our specialists will install secure footings and mountings for each jack, then adjust the jack heights until the beams are fully-supported. We don't just stop at support — under the proper circumstances, SmartJack® can level out sunken floors in your home by returning crawl space joists to their pre-damage positions.
What is the lifespan of a crawl space support jack, and how can you ensure that these systems continue to function effectively over time?
SmartJack® crawl space support jacks have a 25-year, fully-transferrable warranty, which guarantees the integrity of the system for over two decades. With their high-strength construction, support jacks from Colorado Crawl Space will provide reliable strength and support for your home for many years. If the substrate beneath the jack base sinks due to soil conditions, our expert service technicians can adjust the jacks at any time to ensure they provide the same level of performance throughout the life of your home.
What is our installation process?
First, our teams prepare the work area. This includes cleaning the areas where the support bases will be located, then excavating the soil beneath these locations and filling with support materials to ensure lasting stability.
After this is complete, the middle of the crawl space ceiling is located, at which point brackets will be fastened to each of the floor support beams where the support beam will be hung. The galvanized steel beam is hung from the brackets, and the post bases are laid out over the excavated and strengthened base positions.
Then, we measure, cut, and install the support posts before tightening them to their desired positions.
Finally, we clean the space and leave your home safer and more stable for years to come.
All of this work is typically complete in a single day, and can be performed in crawl spaces of any height, up to and including 10 feet.
Should I consider DIY crawl space support solutions?
In short, whatever you decide to do with your home is entirely up to you. DIY solutions, like stacking cinderblocks under support beams, are almost universally short-term solutions and will need constant replacement and maintenance.
Materials used in DIY crawl space support work are less durable than those offered by Colorado Crawl Space, and without expert workmanship and quality materials, you may never truly remediate your crawl space sag or deterioration problems.
Furthermore, a sagging crawl space is often caused by a multitude of issues, not simply sagging support beams. Our team will provide a custom-tailored solution, using patented and proven systems to ensure the job is one-and-done.
What are the advantages of our crawl space support jacks?
Our team seamlessly installs crawl space support jacks.
Installs in the home within a day
Adjustments can be easily and reliably made, should the joist brace settle into the soil
Can be installed without "overlifting" the foundation, which is known to cause additional structural damage
Appropriate for installation in areas where the soils cannot support heavy loads, and would normally cause joist supports to sink
Can be combined with a moisture barrier system to repair sagging floor joists and girders that are damaged by rot and mold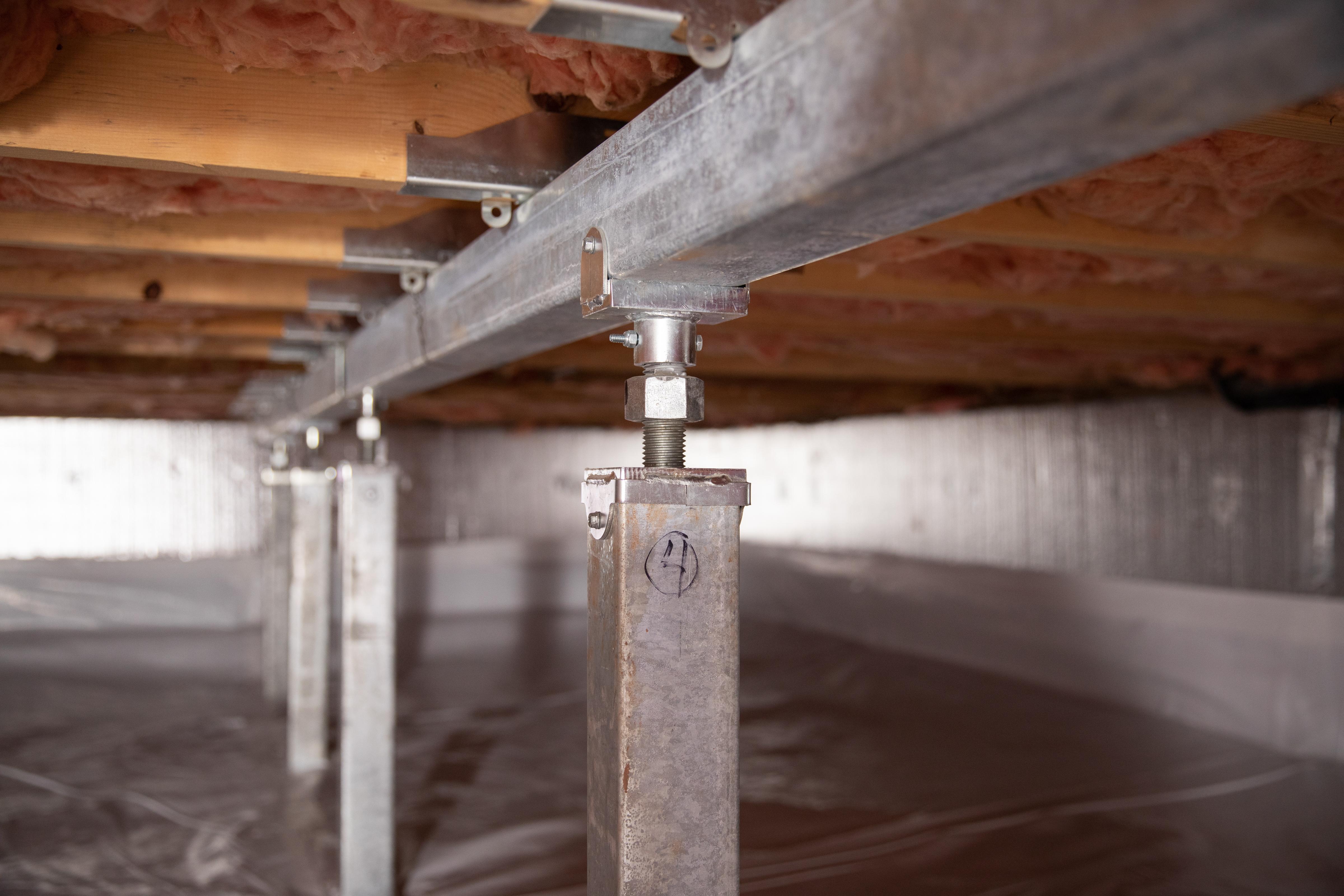 Check out the finished product!
Contact us for a free estimate on crawl space structural repairs
Worried about the structural integrity of your crawl space? Look no further than the professionals at Colorado Crawl Space. As your local crawl space repair experts, we can evaluate your home and install durable SmartJacks™ to ensure your home has stable, level floors.
Looking for a price? Get a no cost, no obligation free estimate.